Excellent Planning & Execution Results in Ethylbenzene/Styrene Facility Cleanup
27 Jun, 2023 | By Refined Technologies
Case Study
,
QuikTurn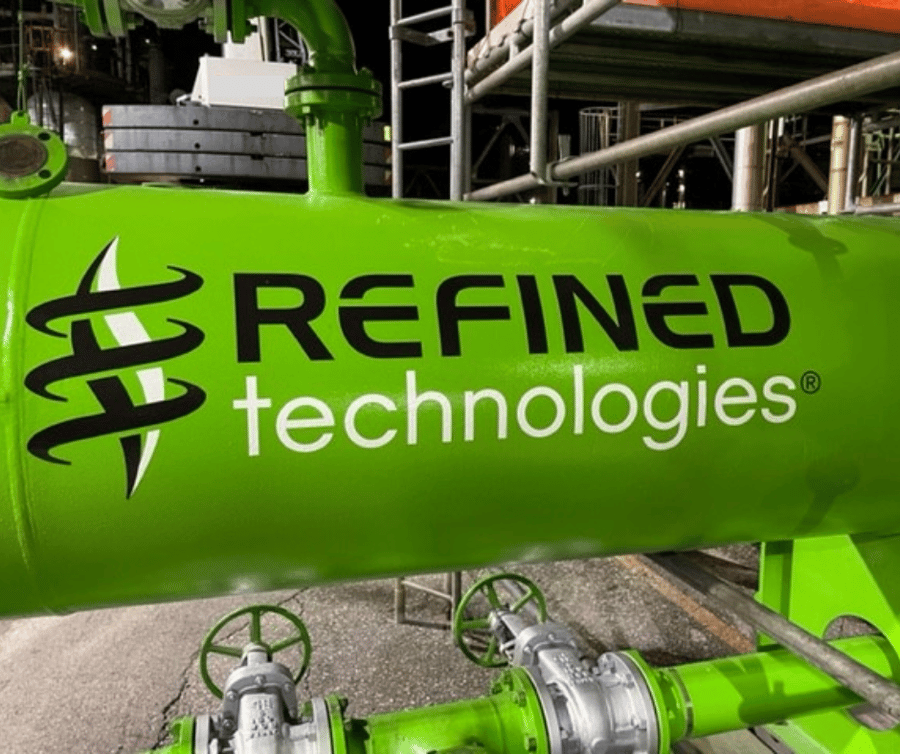 2 min read
The Challenge
In an Ethylbenzene/Styrene unit, ethylene and benzene are combined to produce ethylbenzene, a harmful gas in a reactor. In order to be opened to the atmosphere, equipment has to be reduced to <1 ppm levels of benzene. A North American client's facility was requiring 14–18 days to get from oil out to acceptable gas tests before entry could be made. This led to an open drain system that created numerous community odor complaints and exposures. Even after the clean, residual benzene readings were noted upon entry, forcing personnel to wear respirators in the control room on the last outage, thus, creating a personnel and environmental hazard.
The Solution
Refined Technologies was contracted to perform proprietary QuikTurn® and QTRX2™ vapor phase chemical cleaning of the Ethylbenzene and Styrene units. The criteria for the success of this project were the decontamination of in-scope process equipment and piping, immediately following shutdown and unit de-inventory, providing rapid removal of all hydrocarbons and reduction of LEL% and toxic gases to safe levels, allowing for rapid entries or maintenance work. All major objectives, timelines, and criteria for success were achieved through the use of RTI's team approach to project planning and execution. Additionally, RTI identified several areas of improvement and provided recommendations for subsequent turnarounds that will provide more time savings, less cost, and greater efficiency.
Chemistry Used
QuikTurn® is a chemistry designed to expedite confined space entry and clean vessels. It is a hydrocarbon-based formula that is easy to apply, safe for the environment, exhibits excellent metallurgy properties, and will not cause problems with chemical or refinery products and waste treatment facilities. QTRX2™ is RTI's patented process that allows for fast, safe, and predictable entry into hydroprocessing unit reactors. QTRX2™ also eliminates the need to hot strip prior to cooldown and extended nitrogen purging on the back end can be eliminated.
The Results
Not only did RTI complete all Ethylbenzene and Styrene systems 8 hours ahead of the proposed schedule, but all distillation equipment in the Ethylbenzene and Styrene Monomer Distillation units were also decontaminated and turned over to Operations with 0 Benzene and 0 LEL readings. The client reported this was the cleanest they had ever seen the units and stated RTI delivered "excellent planning, communication, execution, and results."
Additional results included:
Effective implementation of closed drain header and steam header systems.

Operations and Maintenance support for the setup, execution, and demobilization.

All distillation equipment in the Ethylbenzene and Styrene Monomer Distillation units were decontaminated and turned over to Operations with 0 Benzene and 0 LEL readings.

All equipment was deinventoried and cleaned in 7 days, with all system bleeders open to atmosphere by day 7.

All cleaning effluent was contained in a temporary drain system that was routed to frac tanks with vapor control,
The Challenge Concerned about pitting and corrosion, a large Canadian oil sands producer contractedtrue
The Challenge Concerned about pitting and corrosion, a large Canadian oil sands producer contractedtrue
READ NOW
The Challenge A sustainable bulk liquid storage solutions facility had 2 lines going to and fromtrue
The Challenge A sustainable bulk liquid storage solutions facility had 2 lines going to and fromtrue
READ NOW
The Challenge A midstream operator in South Texas experienced paraffinic fouling and 1' to 2' oftrue
The Challenge A midstream operator in South Texas experienced paraffinic fouling and 1' to 2' oftrue
READ NOW