Getting Back to Optimal Running Conditions
7 Feb, 2023 | By Refined Technologies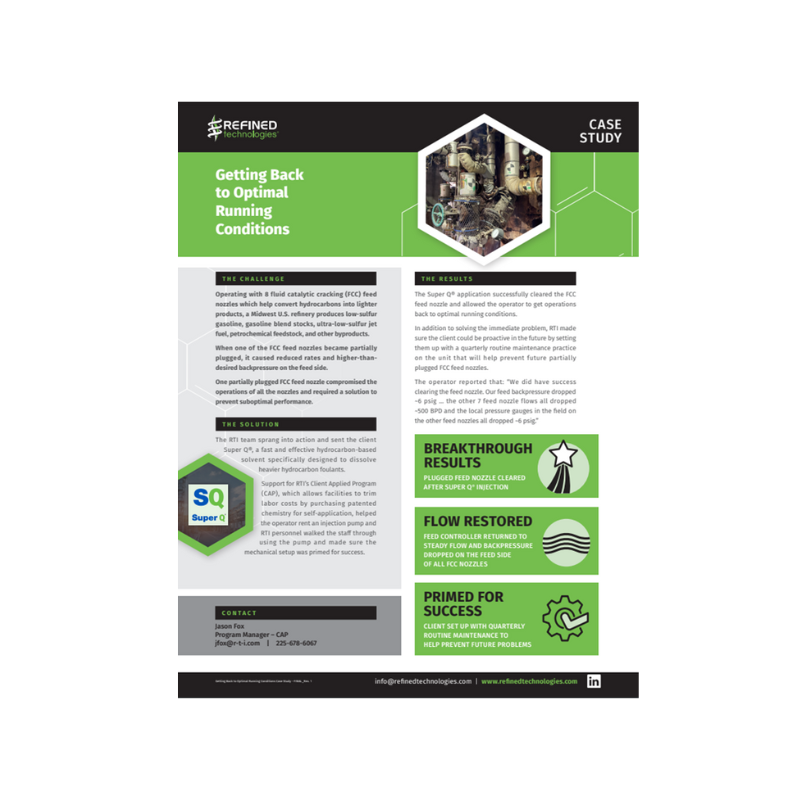 1 min read
The Challenge
Operating with 8 fluid catalytic cracking (FCC) feed nozzles which help convert hydrocarbons into lighter products, a Midwest U.S. refinery produces low-sulfur gasoline, gasoline blend stocks, ultra-low-sulfur jet fuel, petrochemical feedstock, and other byproducts.When one of the FCC feed nozzles became partially plugged, it caused reduced rates and higher-than- desired backpressure on the feed side.

One partially plugged FCC feed nozzle compromised the operations of all the nozzles and required a solution to prevent suboptimal performance.


The Solution
The RTI team sprang into action and sent the client Super Q®, a fast and effective hydrocarbon-based solvent specifically designed to dissolve heavier hydrocarbon foulants.
Support for RTI's Client Applied Program (CAP), which allows facilities to trim labor costs by purchasing patented chemistry for self-application, helped the operator rent an injection pump and RTI personnel walked the staff through using the pump and made sure the mechanical setup was primed for success.


The Super Q® application successfully cleared the FCC feed nozzle and allowed the operator to get operations back to optimal running conditions.
In addition to solving the immediate problem, RTI made sure the client could be proactive in the future by setting them up with a quarterly routine maintenance practice on the unit that will help prevent future partially plugged FCC feed nozzles.
The operator reported that: "We did have success clearing the feed nozzle. Our feed backpressure dropped ~6 psig ... the other 7 feed nozzle flows all dropped ~500 BPD and the local pressure gauges in the field on the other feed nozzles all dropped ~6 psig."
Read the full case study here.
Interested in learning more about how Super Q® and other chemistries can help deliver results? Find out more information here.
Refined Technologies Inc. (RTI) will partner this month with a leading North American energytrue
Refined Technologies Inc. (RTI) will partner this month with a leading North American energytrue
READ NOW
RTI is your Ready for Maintenance Partner for fast and predictable shutdowns. The resources neededtrue
RTI is your Ready for Maintenance Partner for fast and predictable shutdowns. The resources neededtrue
READ NOW
Refined Technologies Inc. (RTI) partnered with a North American energy producer in November 2021 totrue
Refined Technologies Inc. (RTI) partnered with a North American energy producer in November 2021 totrue
READ NOW