RTI Helps Operators Use Resources More Efficiently
11 Jan, 2023 | By Refined Technologies
Sustainability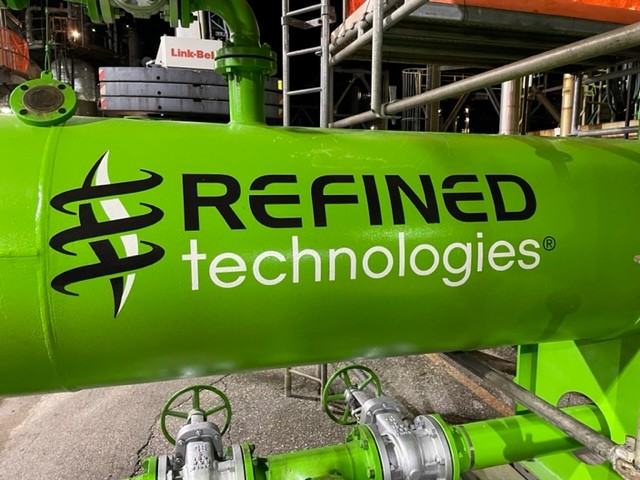 1 min read
RTI is your Ready for Maintenance Partner for fast and predictable shutdowns. The resources needed for shutdowns are precious, which is why one of RTI's prime objectives is to provide sustainable solutions to help facilities use resources more efficiently.
This avenue of sustainability can take several directions, including:
Chemical Cleaning: RTI's 15 chemical patents (with more pending) and proven Vaporganic® process help clients focus on environmental impact and stewardship by using resources more effectively. Chemical cleans achieve:
75 percent reduced steam consumption vs. traditional steam-out cleaning

Easier waste handling

Minimizes transportation required to clean equipment off-site

Enables equipment to be opened to the atmosphere in compliance with remediation standard regulations (RSRs) and prevents visual flaring

Improved Effluent Management: RTI utilizes vapor control systems with chemical cleaning processes and designed mechanical systems to help manage effluents (liquid waste that could contaminate bodies of water) such that:

Liquid waste can be treated and reused or discharged as clean water since the chemistries are biodegradable and non-toxic

VOC emissions to the atmosphere, as well as exposure to personnel, are eliminated with fully contained effluent systems

Flare emissions are reduced as total condensation systems enable flare gas recovery units (FGRUs) to stay online during shutdown

Ultrasonics: This technology, which uses high-frequency sound waves, shows better results than simple hydroblasting. Not only does this method result in a higher degree of clean but it also:

Consumes 70 percent less water than traditional hydroblasting

Allows for reuse of equipment, such as demister pads and other infrastructure, to be reused instead of thrown away after a single use
An example of how RTI helps facilities use their resources more efficiently to achieve environmental sustainability is a project in April 2022 with a leading North American energy producer.
Some of the project goals and benefits included:
Utilizing a closed drain header system to restrict oil from being drained or vented into the atmosphere

Reducing flaring and VOC emissions for their Untraformer-4 Cyclic Reformer Unit

Also reducing nitrogen, freshwater usage, energy consumption, carbon release, CO2, and greenhouse gas emissions
"RTI's comprehensive shutdown approach uses our patented Vaporganic® chemical cleaning process and chemistries. This unique application utilizes QuikTurn® chemistry, a patented reactor clean using QTRX2, and a pyrophoric treatment utilizing Quench®," explained Landon Wagter, Senior Director of Business Development at RTI.
Contact RTI today to find out how we can meet your needs with our patented procedural, mechanical, and chemical solutions that increase efficiency, improve operations, and reduce water usage and carbon impact at the lowest total cost.
Refined Technologies Inc. (RTI) will partner this month with a leading North American energytrue
Refined Technologies Inc. (RTI) will partner this month with a leading North American energytrue
READ NOW
The Challenge Operating with 8 fluid catalytic cracking (FCC) feed nozzles which help converttrue
The Challenge Operating with 8 fluid catalytic cracking (FCC) feed nozzles which help converttrue
READ NOW
The Challenge A leader in used oil recycling in the Pacific Northwest typically has to plan twotrue
The Challenge A leader in used oil recycling in the Pacific Northwest typically has to plan twotrue
READ NOW