What are Refinery Shutdowns and Turnarounds?
10 Oct, 2022 | By Refined Technologies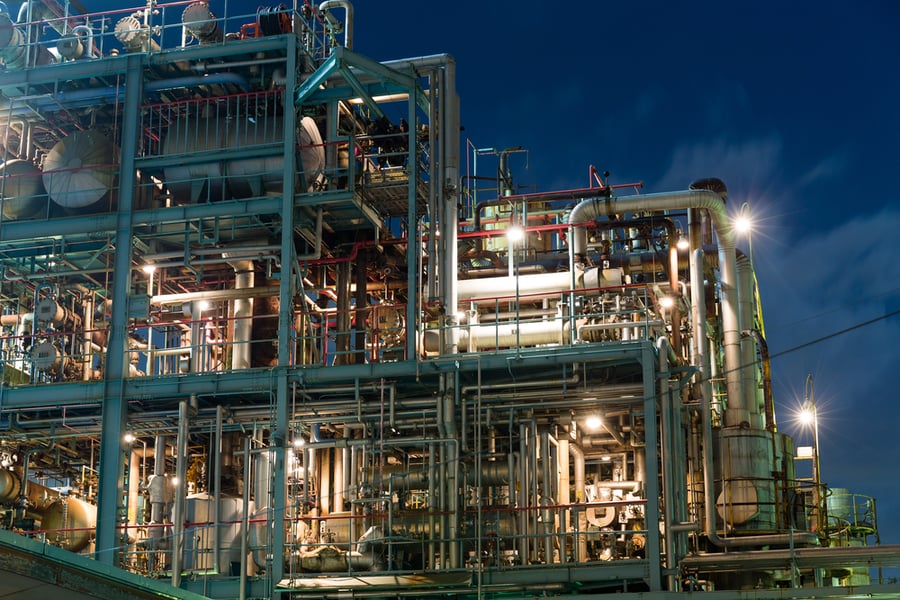 3 min read
One fact of life in the energy industry is that refineries cannot always operate at 100 percent capacity; they must navigate planned and unplanned outages brought on by turnarounds and shutdowns.

Turnarounds, sometimes abbreviated as TAR or TAs, are needed to meet productivity, reliability, and safety standards. This requires refineries to undergo periodic maintenance to inspect, renovate, upgrade, and replace equipment and infrastructure.
Turnarounds typically take place in the spring and fall, avoiding peak production seasons, which allows maintenance to occur during more favorable weather conditions than summer and winter.
"Early spring and fall traditionally are busy periods for U.S. refinery maintenance, as operators gear up for summer driving demand and switch to making more heating oil and winter gasoline blends. Regular overhauls also are needed to ensure safety," reports Reuters.
Of course, shutdowns, turnarounds, and outages (abbreviated as STOs) are not always planned and can result in a substantial loss in profits for operators.
The Difference Between Shutdowns and Turnarounds
Turnarounds are planned events for maintenance that can last anywhere from weeks to months, or even years, for a major scope of work.
Turnarounds require extensive planning and include everything from mobilization and demobilization (including mechanical equipment and gas services) to full refinery or isolated unit cleaning and decontamination services, equipment validations, and more.
The U.S. Energy Information Administration (EIA) says that routine turnarounds:
Key fuel production units are planned for every 3-to-5 years

May involve 1-2 years of advance planning (sometimes more when major processing or equipment changes are needed)

Will use dedicated teams from the operating company, as well as outside contracting and engineering firms to execute the scope of work
"While the objective is to minimize the time a unit is offline, the turnaround can result in a unit being offline for several weeks to several months," says the EIA. "During a major unit turnaround, as many as 1500-2000 skilled contractor workers may be brought on-site to perform a myriad of interrelated jobs that require significant coordination and safety measures. Additional personnel varies depending on the circumstances, but it is not unusual to see staff more than triple during a turnaround."
Shutdowns, on the other hand, usually happen because of unforeseen events, such as equipment failures and loss in production, natural disasters like hurricanes, accidents such as fires, or issues in the supply chain.
"Often, if supplies of natural gas or other reagents needed for the manufacture of gasoline are lacking, refineries will simply grind to a halt," says Oil and Gas IQ.
The EIA says, "some unplanned shutdowns do not require immediate emergency actions, and an affected unit can continue to operate for several weeks, providing some room for planning, including material and equipment purchases, before the shutdown. Emergency shutdowns must sometimes be made, however. In this case, a unit or entire refinery must be brought down immediately without warning."
According to the EIA, shutdowns can be broken down into three categories:
Planned Shutdowns: Targeted shutdowns of smaller scope than a full turnaround. These pit-stops help to bridge the gap between planned turnaround intervals; could be 2 to 6 months in planning and preparation, and the outage may last 5 to 15 days before returning the processing unit to normal operation.

Unplanned Shutdowns: Unexpected, but do not require immediate emergency actions. Even well-maintained refinery systems develop unexpected problems. Unplanned shutdowns might result from signs of abnormal or deteriorating process operations. Affected units can continue operating for a time, perhaps 3-4 weeks, providing some room for planning, including material and equipment purchases, before the shutdown.

Emergency Shutdowns: Occur when a unit or entire refinery must be brought down immediately without warning. For example, a fire or power outage could create such a shutdown requirement.
The "O" in STO, outages, are typically brief interruptions brought on by interruption in the power grid, or equipment malfunction.
Turnarounds

on the Rise as Maintenance Was Delayed During the Pandemic
While refineries would love to operate at 100 percent capacity, given the current worldwide hunger for motor vehicle fuels, electricity, and natural gas, the reality is that turnarounds are on the rise after delayed maintenance during the demand depths of the pandemic.
Energy Aspects, according to Bloomberg, forecasted maintenance shut in more than 1.2 million barrels a day of U.S. crude-processing capacity between January and May 2022, higher than average for the same period in the five years to 2019, as "refiners are rushing to complete work postponed during the height of the pandemic in 2020 and part of 2021."
The turnaround pace is expected to continue this fall and into the next two years, as major operators continue to play "catch-up" with maintenance operations after stretching turnaround cycles. Many operators are reporting lower utilization levels this year as they maximize turnaround schedules and level spending.
The

Upside of Downtime: Improving Turnarounds and Shutdowns
The CruzAlta approach starts with developing a deep understanding of each client's unique pain points. From there, CruzAlta will apply a subset of its' proven methodologies to address the specific site needs with an approach that balances capturing immediate value and locking in sustained performance improvements.
CruzAlta's services to improve turnaround and shutdown performance include: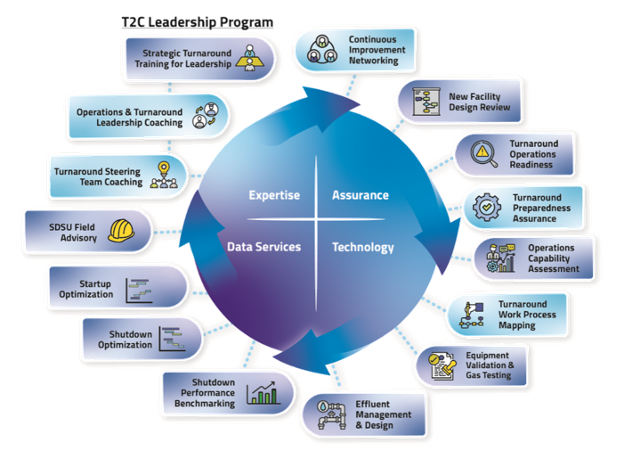 The solution is for turnaround teams to optimize efforts in four areas:
Cost: Reduce the cost of the event through what is spent on materials, labor, incidents, and equipment.

Duration: Minimize the duration of the event and timeline by reducing the number of days that a unit or facility is not operating (downtime).

Reliability: Improve reliability over the cycle by executing the right scope with high-quality workmanship to improve post-event performance.

Interval: Monitor performance and optimize the interval between events by increasing the time between scheduled shutdowns.
The Amsterdam Energy Summit concurs, saying that "if turnarounds are not properly planned, managed, and controlled, companies run the risks of serious budget overruns, costly schedule delays, and negative impacts on customers."
Contact Refined Technologies today to find out how our patented cleaning processes, proven solutions, mechanical enhancements, and experienced operations personnel can help streamline your events with added safety and efficiency. RTI is your ready-for-maintenance partner that ensures excellence at the lowest total cost.
Refined Technologies (RTI) helps transform lives alongside mission partner World Vision, supportingtrue
Refined Technologies (RTI) helps transform lives alongside mission partner World Vision, supportingtrue
READ NOW
Together, Refined Technologies, Inc. (RTI) with "mission partner" CareerSpring is helping unlocktrue
Together, Refined Technologies, Inc. (RTI) with "mission partner" CareerSpring is helping unlocktrue
READ NOW
When I was a young turnaround leader, a grizzled old veteran who taught me a lot about thetrue
When I was a young turnaround leader, a grizzled old veteran who taught me a lot about thetrue
READ NOW